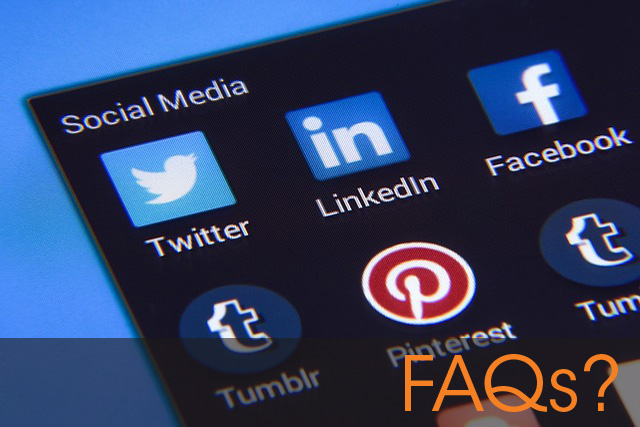 Which Social Media Sites Should I Use?
Not sure which social media sites you should be on? According to "the experts" there are valid reasons to be everywhere all the time. But for a small business, that's just not realistic. Facebook® still dominates in terms of volume of users, but if you primarily market to other businesses (aka B2B), then LinkedIn® is a platform that you'll want to be on as well.
Twitter™ is more popular with a younger demographic so if your target market includes that demographic, then you'll want to consider using Twitter as well as Facebook. Twitter tends to be more conversational and many businesses use it for customer support. For example, let's say your company's phone system is experiencing difficulties—Twitter would be a great way to let customers know and to provide them with an alternative way to contact you.
So then what about sites like Instagram™ and Pinterest™? If your business lends itself to compelling visuals, then you should definitely be snapping and sharing on all of your social media platforms. Images increase social media engagement so you should be thinking of how to include visuals with your social media content no matter what business you're in.
Ready to get more connected via social media, but not sure how to get started? The best place to begin is to define your goals, your target market and to not bite off more than you can chew. You can start small and build as you get more comfortable with social media. And we can help too . . . we can consult with you to help you develop a social media strategy and our Brand Manager™ software will help you streamline tasks so that social media doesn't feel so overwhelming.
How Important Is Social Media for a Small Business Owner?
Just as potential customers expect that a business will have a website, the same is becoming true for social media. You'll want to think of social media as part of your online brand. You have a story to tell about your business and social media makes it easy to do just that. Why is that important?
First of all, once someone becomes aware of you they're going to search online to see what they can find out about you. If you don't have a social media presence, that's a lost opportunity to show a potential customer why they should choose you. You're used to telling your story offline—at networking functions, client meetings—and social media gives you that same opportunity. Remember, potential customers will be deciding between you and the competition so why not take every opportunity to set yourself apart.
Social media activity is also one of those "signals" to search engines that will help boost your rankings. So if improving your rankings on search engines is important to you, then you should be thinking about social as an element of that strategy.
One of the issues with social media is that it's difficult to measure the impact of increasing your exposure. That's where it's important to look more broadly at trends and research to get a better sense of the potential impact of incorporating social media into your marketing strategy. According to the Social Media Examiner's 2016 Social Media Marketing Industry Report in which they surveyed 5,000+ marketers, more than half of those using social media for at least two years reporting that it helped them increase sales.
Most small businesses don't focus on social media because they're not even sure where to begin and they're concerned about the time commitment. Those are actually easy problems to solve! We can help get you started and take some of the mystery out of social media. And with our Brand Manager™ software, the time involved in managing your social media marketing efforts is drastically reduced.
Questions?
Feel free to contact us with any questions you may have. Thanks!